Wedding Fireworks & Low Lying Fog Packages
inLight Studios
SYDNEY • AUSTRALIA • WORLDWIDE
Special FX that create a spectacular stand out moment for your wedding
Have you ever wanted to create a phenomenal indoor fireworks display to add that AMAZING WOW FACTOR to your wedding…. but without the firework risks?  Make that amazing Grand Entrance to your Wedding Reception or Wow your guests during your First Dance. We have packages that cover all aspects of your wedding.  Like the majority of our products, our sparkulars are available on a full hire service where we deliver, install and collect the sparkulars from your chosen venue.
Sparkulars create their sparks by heating up special granules (which we provide alongside the sparkular) which are then shot out of the sparkular creating a spectacular effect, without the obvious risk of any hazards.
Wedding Fireworks & Wedding Dry Ice Packages
WEDDING PACKAGES AND WEDDING PLANNING
At inLight Studios we have done hundreds of weddings, from budget weddings to the most extravagant with helicopter flights and chartered yachts. Check out our wedding packages page to see our vast array of wedding packages. These are a great building block to add fireworks, props and anything else to personalise your wedding.
WEDDING PHOTOGRAPHY & VIDEOGRAPHY?
Absolutely! Our photographers and videographers have a vast amount of experience that allows provide the best outcome, some of our photographers have done over 100 weddings! This helps us be as inconspicuous as possible so that we don't ruin your special day you have put so much work into.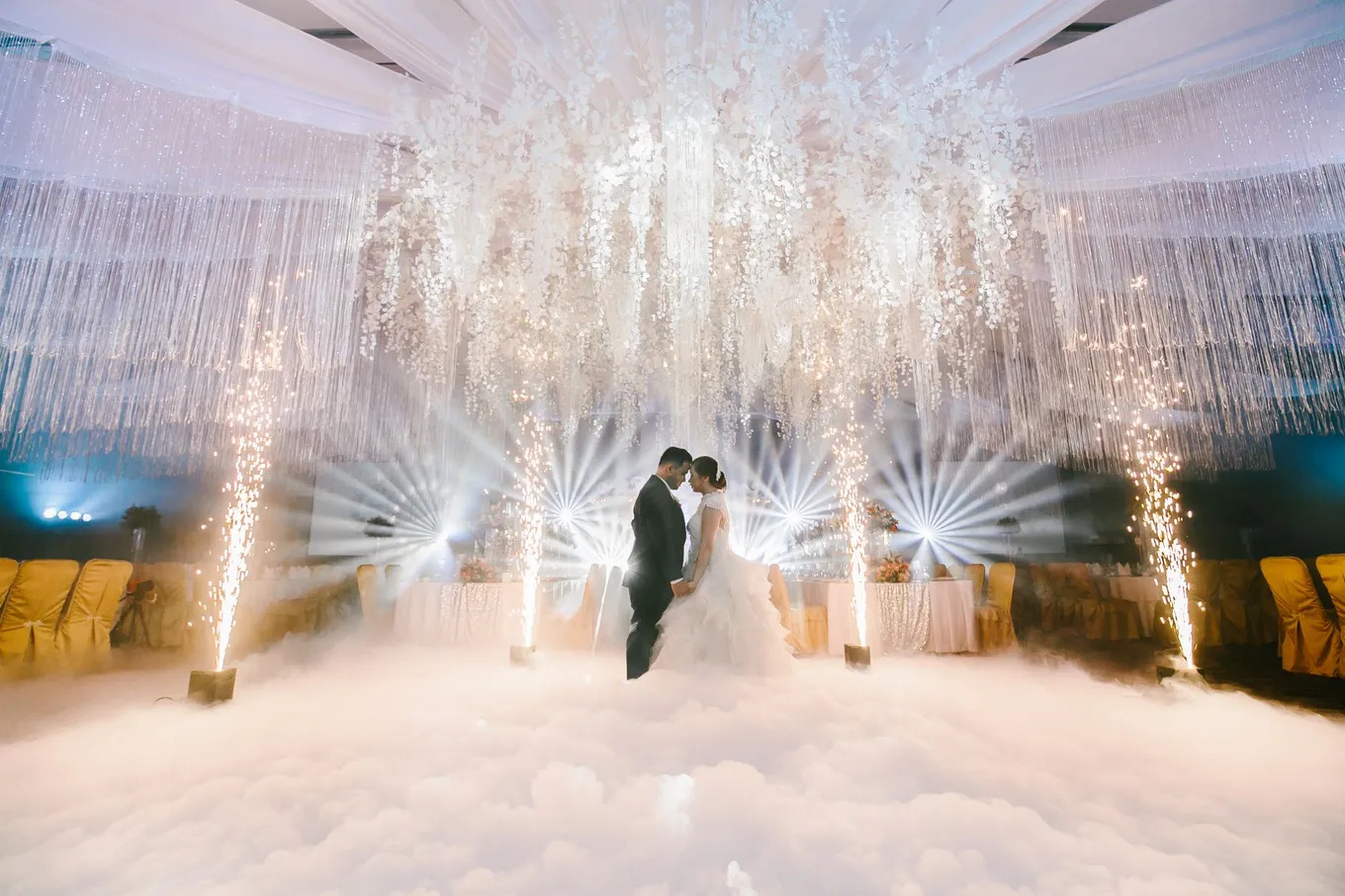 POPULAR WEDDING FIREWORKS SYDNEY
Add our cold sparkular machines on your existing wedding package or add them alone. The most popular fireworks display for weddings is adding 6 cold sparkular machines. These can be moved around for the photographer and videographer for the best photos and our technician will turn them on and off based on your requirements and working with the photographer and videographers.
POWERING THE COLD SPARK MACHINES
Our cold spark machines obviously require a lot of power to turn the granules into cold safe sparks. We have high powered battery packs that the cold spark machines sit on to provide power. These provide power to the cold spark machines in places where mains power isn't accessible.
Wedding Fireworks Packages
Wedding Fireworks and Low Lying Fog Packages
Wedding Fireworks Specifications
When you are planning your wedding in Sydney, the most exciting city in the world, you know your event just has to rock!
Let us take the stress off your shoulders with our outrageous jaw-dropping firework displays. This is your night, you deserve to feel like royalty.
Guaranteed to wow your guests our displays are the perfect backdrop for unforgettable memories and out of this world photographs. 
Not just for Weddings, our displays add glamour to Anniversaries, Birthdays and May Balls.  
Indoor Fireworks and Special FX Specifications:
Indoor Fireworks Sydney & Dry Ice Wedding
 wedding fireworks wedding fireworks sydney indoor fireworks sydney wedding dry ice dry ice wedding wedding fireworks wedding fireworks sydney indoor fireworks sydney wedding dry ice dry ice wedding wedding fireworks wedding fireworks sydney indoor fireworks sydney wedding dry ice dry ice wedding wedding fireworks wedding fireworks sydney indoor fireworks sydney wedding dry ice dry ice wedding wedding fireworks wedding fireworks sydney indoor fireworks sydney wedding dry ice dry ice wedding wedding fireworks wedding fireworks sydney indoor fireworks sydney wedding dry ice dry ice wedding wedding fireworks wedding fireworks sydney indoor fireworks sydney wedding dry ice dry ice wedding
We've thought of everything so that you don't have to