Festoon Lighting Hire Sydney
inLight Studios
SYDNEY • AUSTRALIA • WORLDWIDE
Festoon Lights Hire Sydney
Thinking about hiring out festoon lighting for your event? Why not create that festival vibe for your party. It's prefect for any garden or outdoor party. Festoon lighting can be hung in different ways to create different effects you may want it draped around? or even a Star shape created.
Festoon lighting is not just for festivals and garden parties. It's often used at various events like weddings for example. How about creating a path way for your guests to follow towards your venue. We can light up an outdoor space where guests may gather. Its a great way of decorating your venue space inside and out. One of the key features that everyone loves about festoon is that it creates a classical and relaxing look.
Festoon Lighting Hire Sydney
Popular Festoon Lights Hire Designs
Crossed Strands Festoon Lighting
Suspended from the beam braces or beam ends, festoon lights are hung in a generous swag from point to point, creating crosses of lights along the barn.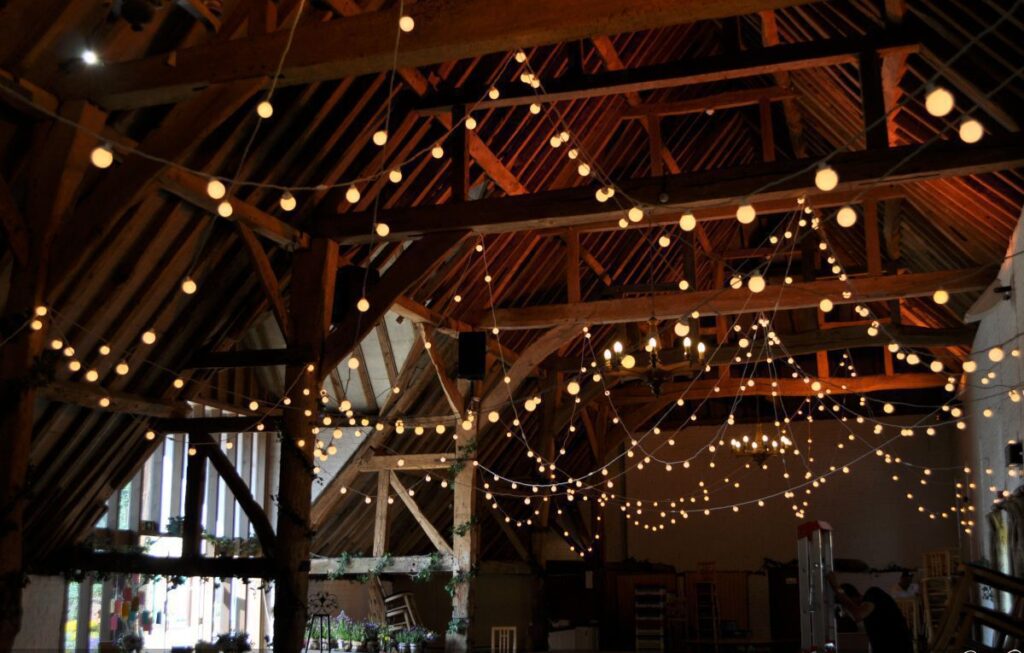 An impressively large canopy with an unstructured, luxurious feel. Hundreds of metres of festoon lights are hung around the barn in lots of loops of varying length and height.
Single Canopy Festoon Lighting
A single swag is created by zig zagging back and forth between two of the barn's main beams. A great design for personalising to match your wedding theme.
Festoon lighting canopies are great where a more dense look is required. Lights are hung back and forth across the width of the barn at regular intervals to create a big impact canopy.
Backdrop Festoon Lighting
Hang festoons down a wall as a backdrop behind a ceremony or top table or use swags of lights under or between beams and other fixing points for a simple, effective display.
Festoon lighting can be hung between buildings, along the edge of barns or buildings and hung in the branches of large trees. They can be installed on poles, walkways, along fences and patio railings.
Festoon Light Hire Sydney
Here at inLight Studios we have been providing string lighting services to Sydney-siders for years. We have a team of experts that would be able to create a magical effect with our festoon lighting. With our festoon lights we can cater for all events big or small. Our team will work closely with you to help you achieve the effect you was looking for for your event
Most Trusted Events Supplier in Sydney
 We want to help you find exactly what you are looking for and work closely with you to achieve this. You may be working towards a budget or maybe you just need some advice and we are here to help. There are two ways you can hire our Festoon Lighting from us, we can deliver and set up for you. Alternatively, you can go for our dry hire service and meet us where we are based in Sydney. 
Please do not hesitate to contact us if you have any questions even if it isn't to do with our lighting hire.
Festoon Lighting Services
We've thought of everything so that you don't have to