Professional Wedding Videography
Sydney's Best Wedding Videographers
EXCEPTIONAL WEDDING VIDEOGRAPHY AVAILABLE SYDNEY-WIDE
When it comes to documenting your special day, its absolutely necessary to capture every special moment. The tears, the laughter, the emotions, the smiles and the atmosphere. Whilst photography is fantastic for creating stunning stand out portraits and beautiful, romantic moments frozen in time, videography adds an immersive dimension to your special day which images simply cannot replicate. As skilled wedding videography experts in Sydney, our talented team can create a memorable, unique visual masterpiece on film which you will cherish for a lifetime
How We Met Short
Length: between 2 – 3 minutes. A short and sweet film created to bring back all the memories using the best bits from your special day. Edited by our videography professionals, perfect for sharing online with everyone!
Cinematic Trailer
Length: between 3 – 5 minutes. A medium-length film that tells the story using audio narrative from your wedding day, edited by our professional videography team to music. Also perfect for sharing online with friends and family.
Feature film
Length: up to 1.5 hours. A full length film that takes you back through your entire wedding day showing the ceremony and reception speeches in full. All other parts of the day are also included and edited to music. Feature films are the perfect way to relive your wedding in detail and beautiful to share with close family.
Custom Video?
Length: between 30 seconds and 2 hours. Let us know as we have done work in all fields, all styles and lengths including work with some of the biggest players in the industry. This includes nightclubs, weddings, products, business' and music videos. If you require any videography make sure we are the first people you ask!
Wedding Videography Sydney-wide
This is such a special time for you, every single moment is unique, and unfortunately too short. These are once in a lifetime moments you'll want to have captured forever. Let us capture these moment through videography!
We're blessed to be considered to witness all these moments with you, and we will be passionately putting all our effort in to make it look as amazing and personal as it can be.
With 10 years of experience in this field in multiple countries we have managed to create our style and easy working system. This makes us hidden throughout the day but able to naturally shoot moments that would be most valuable so you can see the true feelings and emotions.
We are able to move the camera in such a way that captures the emotions and atmosphere. Whether it is videography or photography, filming your wedding is so much more than pointing a camera, it encompasses creative talent, knowing your craft and being attentive to people. These precious moments are truly captured by listening and being flexible to your needs, so the result will be cinematic in style as we believe your wedding day should be as magical as a feature film.
sydney wedding videographer sydney wedding videographer sydney wedding videographer sydney wedding videographer sydney wedding videographer sydney wedding videography sydney wedding videography sydney wedding videography sydney wedding videography 
Our Videography Clients
Please reach out with any questions you may have, we offer free pre and post wedding consultations to discuss how you want the photography/videography of the day and editing to go. We will go out of our way to ensure the day is perfect!
8 hours of videography coverage
30 minute edited cinematic wedding movie
1 Camera operator for your wedding
Professional audio recording
Professional photography and cinematography equipment
A free consultation prior to the wedding
Online gallery of all your media and/or USB hardcopy
All editing included in the price
Quick turnaround of 1 month on all media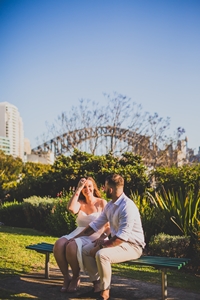 10 hours of videography coverage
1 hour edited cinematic wedding movie
3 – 5 minute cinematic trailer of your wedding
1 – 2 Camera operators for your wedding
Professional audio recording
Professional photography and cinematography equipment
A free consultation prior to the wedding
Online gallery of all your media and/or USB hardcopy
All editing included in the price
Quick turnaround of 1 month on all media
12 hours (full day) of videography coverage
1.5 hour edited cinematic wedding movie
3 – 5 minute cinematic trailer of your wedding
2 – 3 minute How We Met short movie
4K Drone footage of your wedding
Electronic Camera Stabilizer utilised your wedding
2 – 3 Camera operators for your wedding
Professional audio recording
Professional photography and cinematography equipment
A free consultation prior to the wedding
Online gallery of all your media and/or USB hardcopy
All editing included in the price
Quick turnaround of 1 month on all media